⚡A giant matryoshka doll appeared on Pushkinskaya - a food truck
⚡A giant matryoshka doll appeared on Pushkinskaya - a food truck
30.05.2022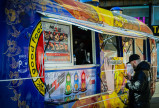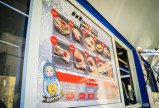 In Moscow, a giant van in the shape of a matryoshka doll has been installed on Pushkinskaya Square. Street food will be sold there: burgers, sandwiches, side dishes, shwarmas, pancakes, hot and cold drinks. Later, 15 more brightly decorated mobile trucks with food from farm products will be installed in the central districts of the city.
Street concepts will be presented by singers Andrey Grigoriev-Apollonov (Ivanushki International) and Papa Fry (Sergey Zhukov), 1 Food Factory (1FF), Matryoshka, COOP and many others.
Earlier in Moscow, Starbucks coffee chains, McDonald's, KFC and Pizza Hut fast food restaurants were closed.
Grants will be allocated to support entrepreneurs to open or expand fast food chains in Moscow. Applications will be accepted from March 28 to June 30.
Until recently, street food in this format could be tried in Gorky Park, at the River Station, at Flakon and Khlebozavod. Now mobile trucks capture more and more new locations in the city - the most visited and fashionable. Sixteen bright "cars" selling drinks and ready-made food from farm products have also appeared where fast food franchises that left Moscow used to be located.
The menu of mobitrucks includes burgers and sandwiches, shawarma and pancakes, hot and cold drinks. The top street concepts are presented by Andrey Grigoryev-Apollonov with his project "Red Yanhuk" and Sergey Zhukov with the grill bar "Papa Fries Meat", as well as 1 Food Factory (1FF), "Matryoshka", COOP and others.
"Red Yanhuk" will serve burgers, sous-vide beef ribs with mango sauce, shava with marbled beef, chicken, fish, shrimp and red caviar with special sauces - on carrot red buns. Grigoriev-Apollonov opened this project together with chef Sergey Yanhuk.
"Papa fries meat" is a modern chain of grill-bars with an open kitchen, owned by Sergey Zhukov. Delicious shawarma will be served from the windows of his mobile trucks, including a truly generous portion of meat and the highest quality ingredients.